Description
Introducing the Ammo Brick from Bison Tactical!
After years in development we are happy to introduce the Ammo Brick!
Dense ammo storage designed for field use.
Designed specifically for the 6mm BR family of cases, the "Short Stack Ammo Brick" brings very dense ammo storage to competitive shooters.  Using innovative materials is a hallmark of Bison Tactical and its no different with our new Ammo Brick.  Using laminates to provide a secure grip and designed to grip your rounds without using elastic which stretches over time and takes up a lot of valuable space.
The Short Stack (the 6mm Dasher, BRA or BR variant) carries 120 rounds, but measures only 8.25″ x 2.25″ x 4″.
The Regular Stack (.308, 6.5 Creedmoor, 6 Creedmoor) carries 120 rounds, but measures 8.25″ x 2.25″ x 5″ – only marginally larger than the "Short Stack".
Conceived in 2017 after searching for a way to store ammo in my backpack for matches.  I first tried the MTM Case Guard boxes which are great for reloading, but take up a huge amount of space in the backpack and are not very field friendly.  I looked at other options on the market but most only allowed for 40 rounds of storage in a binder arrangement.  That was OK, but meant I had to buy a lot of them to get through a single day.  I worked with my prototype company and we came up with a design to test various methods of securing 6mm Dasher rounds without taking up a lot of space.  2018 was the season where the 6mm Dasher overtook other cartridges to become the most used cartridge by far for the "Pros" in Precision Rifle Series [See the Precision Rifle Blog article on most used cartridges for PRS].  At the time, none of the other ammo binder makers were doing anything specific for 6mm Dasher or any of the 6mm BR family cases.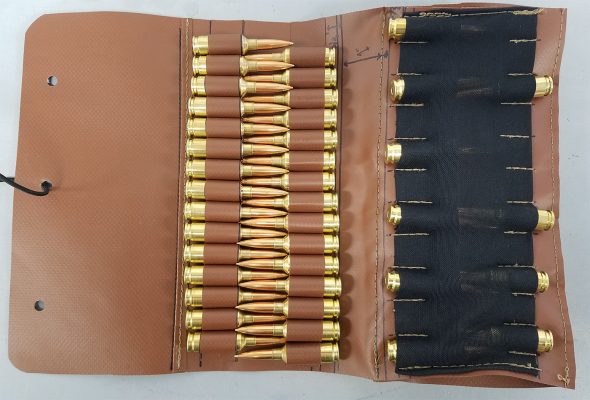 Early Ammo Brick prototype trying out different retention methods
Most of our products are not so difficult to produce, however due to problems with the supply chain this one took YEARS to bring to market.
I have been using a prototype in competition which a lot of you may have already seen for several years, and they are still going strong.  I really love the ability to stuff the entire match worth of ammo into the side pouch on my backpack.
I hope you enjoy the Ammo Brick, and I look forward to releasing the "Regular Stack" (.308 based cartridges) and "Mag Stack" (Short Action Magnums like 7SAUM) shortly.
**NOTE 2/22/2021**  We have begun final validation testing of the Regular Stack version, and introduced a change to the product.  We will be incorporating loop fabric along one edge of the binding.  This will allow us to use the same color fabric (Foliage Green), and let you more specifically identify your cartridge using labels like the below image.  The final one is in white to allow you to write in your cartridge if its not one that is already included.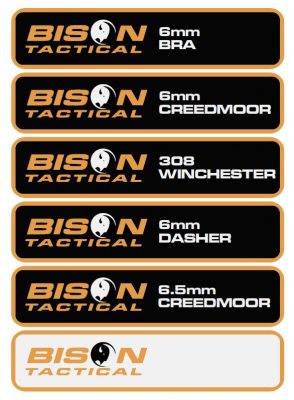 A simple suggestion from years of use – insert rounds from one end of the row as you move up the row.  Either alternating sides, or up one side.  The tolerances are designed to be tight, so inserting a round into a gap between others is going to be difficult.
The grippy part of the material is facing outwards to help avoid dropping your ammo into the dirt, and the bungies come knotted loosely so you can adjust the tension to your preference.
Great piece of kit
Excellent organization of ammo, which has been a pain keeping up with test loads, competitive loads and just lugging around your practice loads. The only thing is that I wished there was a bit more padding and a better way to close it. Right now it just simply has a cord that loosely fits. That said this is a vast improvement to what has been available for prs shooters......